Brunel Microscopes Ltd
Registered in U.K. (England) No: 2060047
find us on youtube, facebook and twitter




















Polarising microscope with x10 dispersion objective








The identification of asbestos fibres requires the use of a polarising microscope that has a first order red retardation plate and a specialist x10 objective with a back stop. These are known as dispersion lens objectives and were also known by the original manufacturers name as a McCrone objective. These are used to examine the dark field colours shown by fibres that are immersed in various refractive index oils. The Brunel SP250PA is supplied with both a standard x10 and also a dispersion x10 objective together with a standard x20 and x40. All objectives are plan infinity corrected.
The Brunel SP250PA binocular is a full specification polarising microscope including Bertrand lens, quartz wedge and wavelength retardation plates. This microscope is very competitively priced and manufactured exclusively for Brunel Microscopes to the highest standards. The binocular head incorporates a lyot depolarising filter to ensure true colour rendition when analysing with plane polarised light.
The Brunel SP250PA specification features a rotating head with x10 widefield eyepieces one of which has a graduated crosshair, a push/pull Bertrand lens beneath the head, and a push/pull analysing filter that can be rotated through a full 360 degrees with a graduated scale. It also has a filter slot to accommodate the quartz wedge, quarter wavelength and full wave length retardation plates that are all provided as standard with this microscope, a rotating graduated circular stage, with clamping mechanism and lateral adjustment which allows each objective to be positioned centrally in the optical path, and a quadruple objective turret, with an excellent and very positive indexing mechanism, housing 160mm corrected plan x4, x10, x20 and x40 strain free polarising objectives, that have lateral adjusters in three of the objective positions to allow individual lateral centring. There is an abbe condenser, with rack and pinion focusing, filter carrier and iris diaphragm. The polarising filter is housed above the field lens with a swing out mechanism so that it can be removed easily from the optical path.
One of the most important features of any polarising microscope is the illumination system. Crossed polarising filters obviously produces a black background, and the brilliance of the appearance of birefringent objects is dictated by the lighting system of the microscope. The Brunel SP250PA binocular has rheostat controlled quartz halogen illumination, with 6 volt 20 watt lamps located in an easy to reach lamp housing that can easily be accessed from the base of the microscope. The microscope is available either as a binocular or as a trinocular to facilitate imaging for training or reporting purposes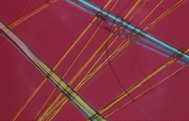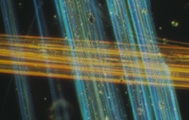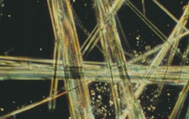 Amosite RI 1.55 1st order red
Crocidolite RI 1.55 x100 dispersion
Amosite RI 1.68 x100 dispersion

Brunel SP250PA Polarising Microscope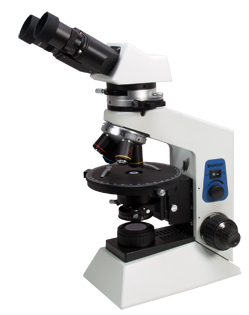 Brunel SP250PA turret and stage area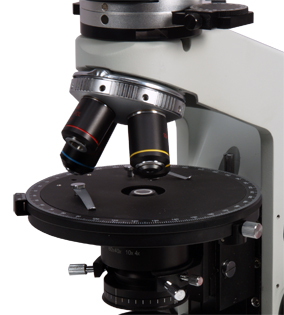 SP250PA with x10 dispersion lens - binocular Price: £1472.50 + vat
SP250PA with x10 dispersion lens - trinocular Price: £1622.50 + vat