Brunel Microscopes Ltd
Registered in U.K. (England) No: 2060047
find us on youtube, facebook and twitter




















Zoom magnification stereo ideally suited for gross asbestos examination








The handling of gross specimens of asbestos requires a stereomicroscope that can fit within one of the leading air flow filter cabinets available for this purpose. The BMDZ stereomicroscope is tried and tested in this function over many years. It is best on a plain stand with an independent dual goose neck LED light source all of which fits neatly within the cabinet with the eyetubes protruding for ease of use. There is also sufficient height to allow the connection of a digital or HDMI camera for training purposes.
The BMDZ is a full zoom trinocular stereohead with a magnification range of x7.5 to x45 with the x10 widefield eyepieces. The range may be extended to include x3.5 to x180 with additional objectives and eyepieces. The zoom mechanism is operated by side arm control knobs. The eyetubes have full interpupillary and dioptric adjustment and eyecups are supplied as standard. The unique features of this stereohead are the fact that the trinocular tube shares the images with the binocular eyetubes which allows the microscope to be used at the same time as the image can be viewed on a monitor or PC by others. Providing the correct adapter is used the two images are parfocal which makes the BMDZ an ideal stereomicroscope for teaching and demonstration. In addition the zoom mechanism has a lock control so that a predefined magnification can be set. This is particularly useful in an industrial environment where the instrument may be used by several operators.
A plain stand without lighting. Pole coarse focus with a rack and pinion finer focus and a large working area with central dissection plate and stage clips (removable). A freestanding dual gooseneck LED lighting stand is included.
There are of course several other zoom stereomicroscopes in our range and a link to them is below. However we recommend this the BMDZ as the feedback from our customers tells us that if fits the air flow cabinets well and does the job.

Brunel BMDZ on plain stand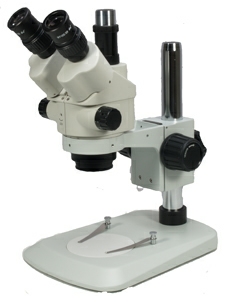 Brunel Dual Flexilite LED System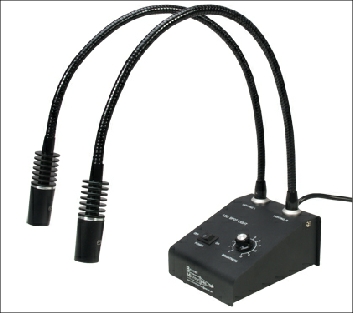 Brunel BMDZ + Dual Flexilite Total Price: £618 + vat