Sectioning of hard tissues including decalcified bone and softened wood
Brunel YD Rotary Microtomes
These are substantial rotary microtomes ideal for those wanting to use microtomy over a wide spectrum of tissue types. The main advantage over the Brunel Rocker is that they can cut hard tissues including decalcified bone and softened wood.
In large measure this is due too their weight and the fact that the power of the operators arm passes directly through the cutting mechanism. The knife holding block is on a slider dovetail and can be clamped firmly in place to suit the depth of the specimen and the angle of the knife against the surface of the block. The specimen clamp can hold a block up to 25 x 35mm and its angle towards the cutting knife can be altered in all directions.
The cutting stroke is controlled by the hand wheel and the pressure of the cut can be altered to suit the material being sectioned. Hard tissues need to be cut slowly for example. The YD rotaries can cut wax sections between 2 and 25 microns in thickness and the horizontal feed is calibrated in single microns. The instruments are complete with a wedge microtome knife and a knife back for sharpening. The YD microtomes will also take a disposable knife blade holder that is available as an accessory.
The Brunel YD Rotary microtomes weighs 20kg and measures 275mm x 200mm x 200mm.
Price Brunel YDA Rotary Microtome - £795.83 + vat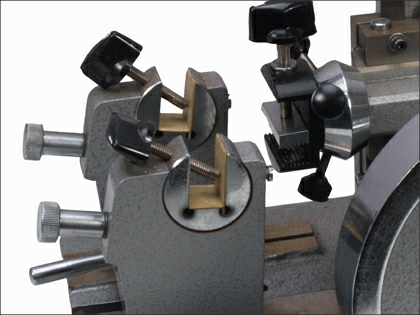 Brunel YD Rotary specimen holder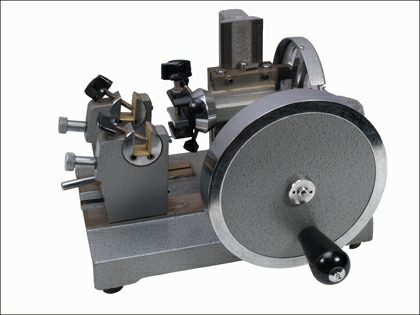 Brunel YD Rotary Microtome














Brunel Microscopes Ltd
Registered in U.K. (England) No: 2060047

find us on youtube, facebook and twitter













Brunel YDM Rotary Microtome
The YDM rotary is a significantly upgraded version of the YDA. The basic operating mechanism has the same principles but the engineering is superior and the advancement mechanism has a hinged cowling which encases the moving parts of the microtome. In addition the YDM has a digital section counting system which is tripped by each turn of the wheel. The number count is displayed on a panel in the cowling and has a reset button mechanism. Finished in white enamel, this is a smooth action professional standard microtome.
Price: YDM Rotary Microtome - £1191.67 + vat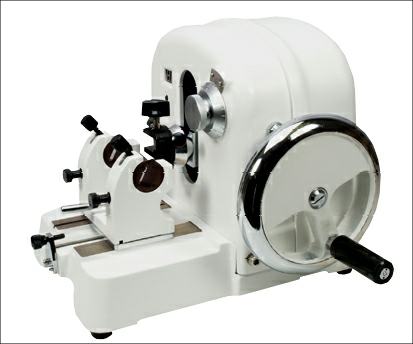 Brunel YD Rotary Microtome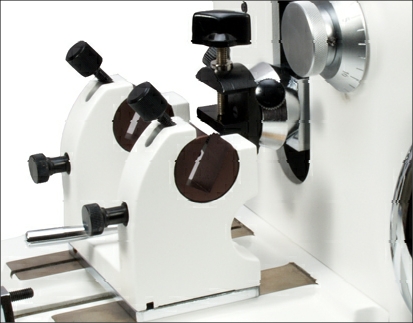 Brunel YD Rotary Microtome