Brunel Handheld Microscopes










Brunel Microscopes Ltd
Registered in U.K. (England) No: 2060047
find us on youtube, facebook and twitter


WiFi, specialist and high magnification options

Handheld Digital Microscopes










There are many handheld microscopes being offered on the Internet these days, and some for very little money. As my grandfather used to say 'you get's what you pay for'. The key things about these units are the quality of the optical lenses (which obviously dictates the final image quality) and the fact that the working distance is very short so that they have to be almost sat on the specimen to get it in focus. A conventional microscope is always going to give a better image - however there are situations where these handheld units (assuming they are not the 'toy' versions) are extremely useful. There are many situations where a conventional microscope cannot physically 'fit', and how useful is it to have a 'microscope' in your pocket for presentations and 'on the spot' checks or for family excursions in the garden and over the fields.
Brunel Microscopes offers four units that we have tried and tested before adding them to our brand. All of them do what they 'say on the tin' and are reliable and give good quality images.
Three are WiFi based which means they have their own IP address and the signal that they generate can be picked up by any device that can link to a WiFi signal - iPhone, iPad, Android, laptop (Apple or Windows) and PC's (Apple or Windows). Software is provided for laptops and computers and there is a free downloadable app for mobile phones and iPads. Alternatively they can also be connected by USB directly to computers and laptops. These three units all have:
A magnification range of x5 to x200 when using a 17" screen on full view.

A CMOS ¼ inch chip

High precision microscope lens

Integrated adjustable LED light source

Dimensions 142mm x 36mm and weight 82g

Wireless transmission distance up to 5 metres

Continuous working time up to 3 hours with recharge time 3 hours
High Power our high power unit is not WiFi and therefore needs a USB input on the devices that it will work with. There are times when a very high magnification is needed and our high power unit does this.
A magnification range of x450 to x600 with a 17" monitor on full screen

A CMOS 1/3

rd

inch chip

Video capture resolution 1600 x 1200, 1280 x 960 and 640 x 480

Dimensions; length 122mm and diameter 36mm

To help focus at these high magnifications the unit has preset spacers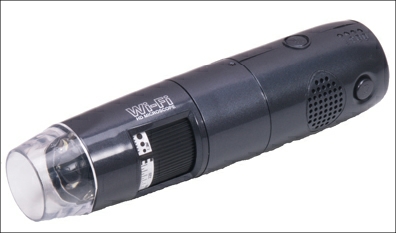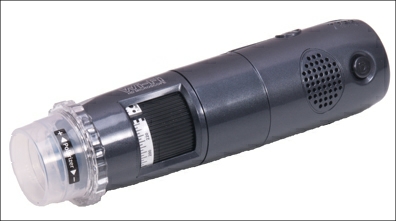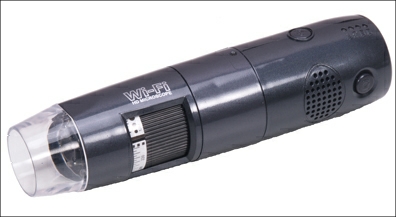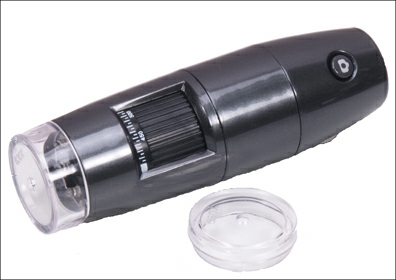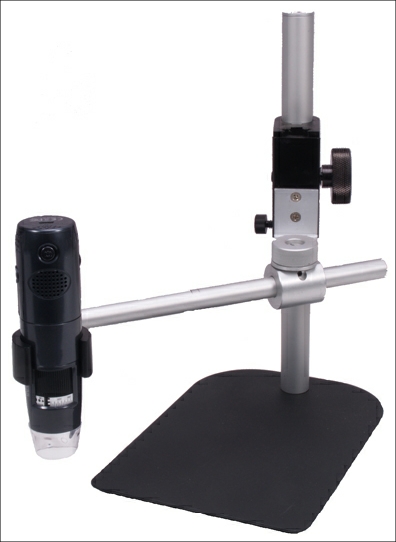 Brunel WiFi Handheld
This unit will provide clear live images via WiFi or USB for mobile phones, iPads, laptops and computers. A free downloadable app is available for iPhones and Androids - or it can be connected via USB to computers - software provided
Price: £145 + vat
Brunel WiFi Handheld with Polariser
This unit has a rotating polarising filter which removes surface 'glare' which can be a particular problem when viewing highly reflective surfaces such as metals.
Price: £155 + vat
Brunel WiFi Handheld with UV
This unit has both white light and also UV wavelength illumination that can be chosen depending on the specimen to be examined. UV illumination can prove particularly useful when examining paint fragments or identifying soldering issues on PVB boards.
Price: £165 + vat
Brunel High Power Handheld
This unit unit does not WiFi but has to be connected by USB. It is designed to give a very high magnification or x450 to x600. The working distance for these magnifications is very short and preset distance stops are provided. Software included
Price: £185 + vat
Brunel Handheld Stand
Our handheld units are designed to be just that - 'handheld'. However 'hands being hands' are sometimes not as steady as they might like to be. Our Handheld Stand overcomes this by providing a simple clasp unit on a long arm stand.
Price: £85.00 + vat